The Cary Briefcase - Slim
Regular price
$295.00 USD
Regular price
Sale price
$295.00 USD
Unit price
per
Sale
Sold out
Navy and Tan
Our streamlined solution for when less is more, The Slim offers a minimalist means of carry while still providing a place for all your essentials.
Our streamlined solution for when less is more, The Slim offers a minimalist means of carry while still providing a place for all your essentials.
Summary
Built with our waterproof DuraLite™ fabric, full grain leather trim, and the core components that define our collection — The Slim is the lightest brief in our lineup and caters to more minimalist needs. It features a full clamshell construction and thin profile that keeps you nimble and makes packing easy, while still affording ample space for a 16" laptop and all your essentials.
Specs
Waterproof DuraLite™ fabric shell
Recycled Eco-Twill lining in khaki
Italian full grain leather accents
Hand polished nickel hardware
Japanese YKK Excella® zipper
Add-a-Bag sleeve for luggage
Umbrella slot on back panel
Key ring with magnetic leather tab
Luggage tag with card slot
Concealed AirTag Pocket
Stow pocket with microsuede lining
Fixed laptop sleeve for up to 16" devices
Laptop sleeve measures 15.0" (W) x 10.8" (H)
Body measures 16.0" (W) x 12.0" (H) x 2.0" (D)
Weighs 1.85 lbs empty
Ships in 100% recyclable packaging
Sustainability
As a proud member of
One Percent for the Planet
, we donate 1% of every sale to environmental causes and build sustainability into everything we do.
CONSIDERED CRAFTSMANSHIP
We fiercely believe in the ethos of quality over quantity. Each of our non-seasonal, evergreen designs is only made after meeting our exacting standards for quality and confidence that it will stand the test of time.
WITH BETTER MATERIALS
From linings to leather, we source materials that minimize our impact. Click the Specs tab above for detailed information about each component.
AND SMARTER CHOICES
Whether it's minimalist packaging or 3D models that reduce unneeded returns, we've learned that creative decisions can both protect our planet and also support a successful business model.
Holiday Shipping & Returns
Available items ship within 2-3 work days, Monday through Friday. Please expect extended processing times immediately after Black Friday & Cyber Monday.
GLOBAL SHIPPING
We ship worldwide with a network of reliable carriers, offering both Economy and Express services at checkout. Where duties are required, they are payable by the customer at importation.
HOLIDAY RETURNS: UNTIL JANUARY 15
We gladly accept returns of unused, new items within 30 days of shipment and provide a prepaid label to make the process easy.
As of today, all eligible returns will be accepted until January 15th.
For international returns, we ask that customers make their own shipping arrangements with a trusted carrier of their choice.
RESTOCKING FEE
With the goal of delivering more value to more customers, we do not blend the cost of returns into our prices and instead apply a US$15 surcharge to cover return shipping and restocking.
Lifetime Warranty
We take exceptional pride in the quality and craftsmanship of our products. Each bag is guaranteed against Manufacturer Defect for as long as you use it.
PRODUCT CARE & REPAIR
Crafted from our resilient DuraLite™ nylon and full grain leather — all our bags are durable, fuss-free solutions built to be carried everyday. To clean the bag, simply use a wet cloth to wipe down the surface and let the fabric dry naturally. For more persistent spots, we recommend warm water and soap.
Over time, your daily touch points can show signs of use. We took this into account and designed detachable handles and straps. When you require a fresh set, they can easily be replaced and your bag will be as good as new.
If you have any questions about caring for your bag, our team is always standing by to help.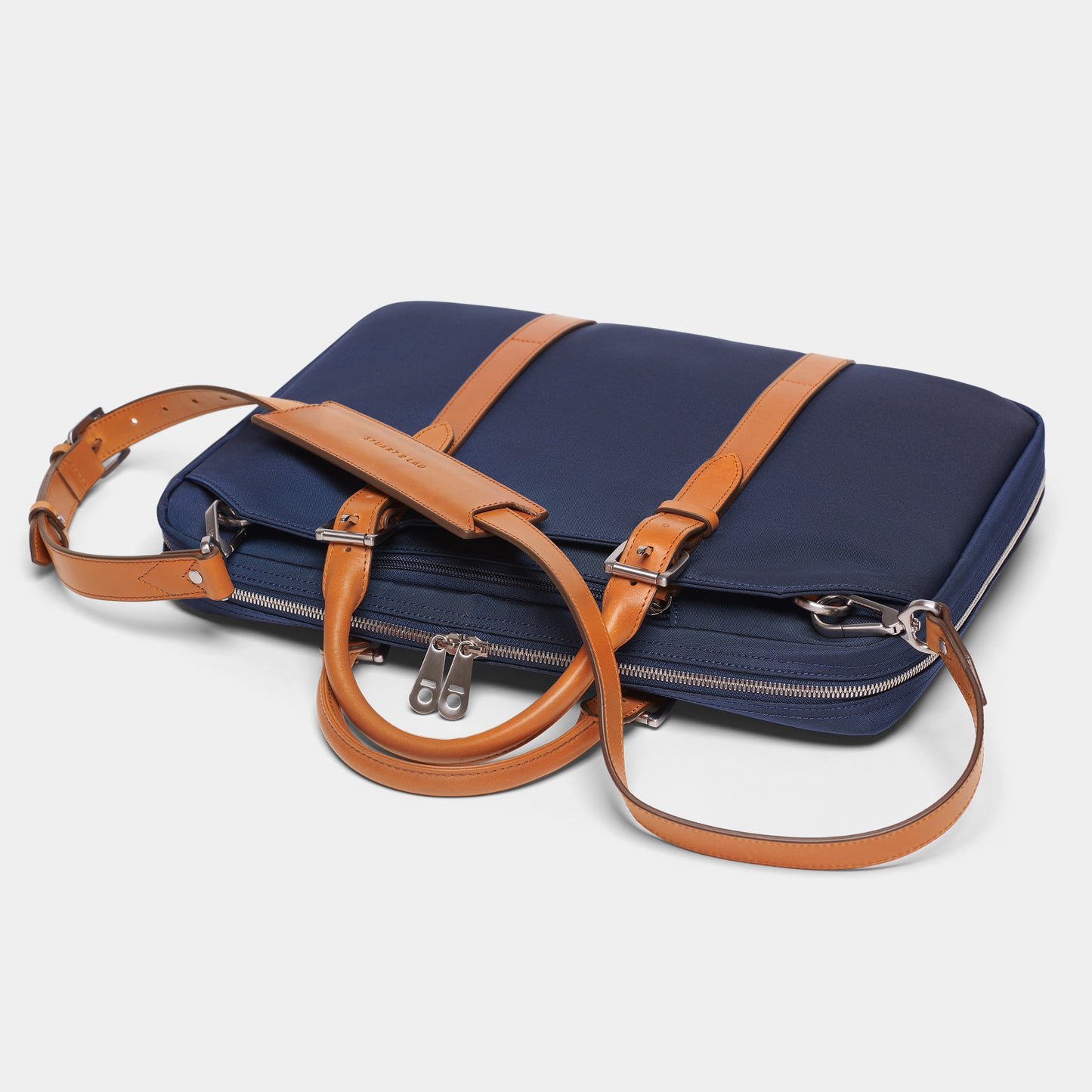 View in 3D & AR
Preview your purchase from every angle using our 3D model
Click the icon to see the product true to scale on your phone with augmented reality.
Features
01
Full Clamshell Design
For easy packing and organization
02
Signature Umbrella Slot
One of our defining features, the smart umbrella slot leaves you weather ready without sacrificing space in your bag
03
Waterproof DuraLite™ Fabric Technology
Impossibly lightweight, extremely durable, and completely waterproof — our proprietary DuraLite™ fabric is engineered for effortless mobility
04
Concealed AirTag Pocket
Keep peace of mind and track of your bag with one of its smartest features, the hidden AirTag pocket
05
Stow Pocket with Microfiber Lining
Securely store essentials in a clever pocket whose microfiber lining does double-duty as a screen or lens wipe
06
Full Grain Leather Accents
Sourced from Italy's prestigious Conceria tanneries, full grain leather touch points enrich the experience while donating durability to the design
07
Smart Organization
Years of feedback drive an optimized and versatile internal layout that provides the perfect place for everything
08
Magnetic Key Ring
Keep your keys classy with a full grain leather fob that conveniently clips inside the bag
09
Thoughtful Details
In Everything
Whether it's the card slot on the luggage tag or the perfect placement of pockets, extra attention to detail runs through every stitch and seam
Compare Briefcase Sizes
The Cary Briefcase – Slim

For The Minimalist

Measures : 16.0" x 12.0" x 2.0"

Weighs : 1.85 lbs

Clamshell Design
Fixed Laptop Sleeve
Ultra-lightweight Build

Explore

The Cary Briefcase – Single

Classic and Original

Measures : 16.0" x 12.0" x 3.9"

Weighs : 2.75 lbs

Classic Briefcase Design
Fixed + Removable Laptop Sleeve
Add-a-Bag Sleeve for Suitcases
Packable Shopper Included

Explore

The Cary Briefcase – Double

Effortless Mobility in Expanded Form

Measures : 16.0" x 12.0" x 4.1"

Weighs : 3.55 lbs

Dual Compartment Design
Fixed + Removable Laptop Sleeve
Add-a-Bag Sleeve for Suitcases
Packable Tote Included
Additional Capacity

Explore